Central High School. 224th Class
End of 2019 Update
Here's a cursory review of 2019 and more importantly, an outline of 2020, the year of our 55th Reunion.
1. Reunion. Yea, 55 years. Hard to believe. Information is on the home page, but you should know that the day is Saturday, May 16. An afternoon affair. Spouses and significant others are invited. From time to time, you will be updated on who plans to attend and if they are bringing a guest(s). This is intentionally pleural [sic], since guys not in the 224 attended the 50th shindig, and there is no reason (as I see it) to not invite someone(s) who wants to join us. We have been told that guys in the 223 or 225 have expressed interest in attending. There may be people without any Central connection who might be interested. I personally know of two. The cost is $110 per person, which includes everything. Initially, the thought was to have a cash bar (to keep the cost as low as possible and to not force nondrinkers to subsidize those who do consume alcohol). However, the package that was offered was all inclusive, and actually less expensive than arranging for services a la carte. If finances are an issue, contact Ron Rosen confidentially. We would like to have as many classmates attend as possible. The CHS alumni association will probably set up a mechandise table outside our main congregating room to sell school swag. Start saving your SS benefits. As per invitation, send money to Ron Rosen...see invite for address.
2. Sunday Brunch . May 17. This idea is being considered. However, before plans are arranged, we will survey the class to gauge interest.
3. School Visit. Probably Friday May 15. Similar to the Sunday brunch, we will survey the class before planning this event. Of note, this was hugely successful at the time of the 50th.
4. Volunteers. Many guys were involved in the planning for the 50th. Much of that was tracking down lost classmates and creating an up to date data base. For the most part, tracking down classmates has ended since the passing of Bruce Zoren, and our data base is in great shape due to the efforts of David Perloff and Mark Lipshutz. However, if anyone would like to volunteer to help with the May reunion, we would gladly accept their assistance, especially if we want to have a brunch and/or school visit.
5.Follow up survey. You may recall we had a short survey 5 years ago. Is there interest in a follow up? Again, we'll poll the class in several weeks. Here's the link to the last survey.
http://www.central224.com/224-Survey.htm
6. 224Ward Fund. We continue to award grants to current students and teachers to enhance the CHS experience. Summaries of these awards are publicized throughout the year. Below are links to prior updates.
http://www.central224.com/Update-Dec-2019-224WARD-Fund.htm
http://www.central224.com/UPDATE-224Ward-Fund.htm
http://www.central224.com/Grants-from-224ward-Fund.htm
7. Web Site. Still functioning, sometimes more postings, sometimes less. For the most part, people have been using this site as it was intended. As this is a presidential election year, I would hope guys would be respectful of others. Think of this as having a Thanksgiving meal with relatives of all different political persuasions. If you feel compelled to express controversial views, kindly do so in the FORUMS page. The management encourages all class members to assist with self policing our site.
8. Mini Reunions. Guys continue the widespread tradition . Yama Yamo to all.
9. 224 Authors page. Newly created page listing published authors from our class.
http://www.central224.com/224-Authors.-Updated-list.htm
10. Books read. Last year I recommended several books I read in 2018. This year's recommendations are:
* The Handmaid's Tale Margaret Atwood
* The Fifth Risk Michael Lewis
* Lifespan: Why we age and why we don't have to
David Sinclair, PhD
11. Class members of note:
* Bob Savoy became a member of the bar of the United States Supreme Court on June 19 in a ceremony attended by all nine justices. Classmate Eric Shore had provided a necessary nomination. (Ed. Are there other classmembers who can argue cases before the Supreme Court? Let us know who you are. We'll start a new page similar to the 224 AUTHORS page).
*Recent letter to editor in Phila Inquirer. Check author->
Daniel Kanofsky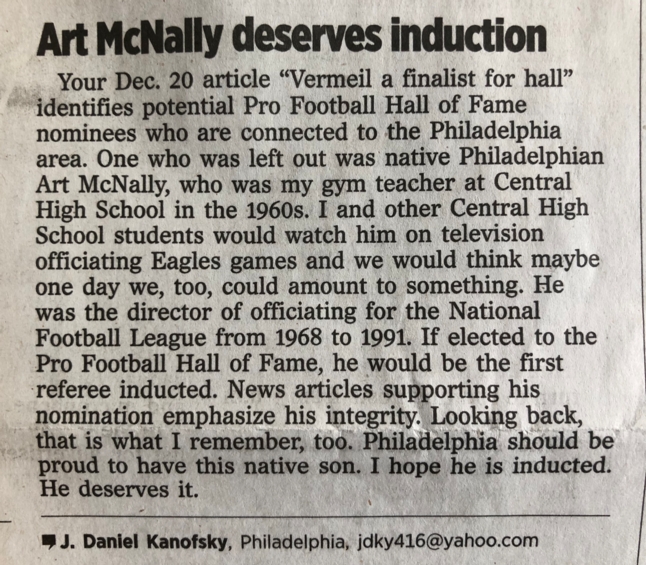 *Alan Krupnick quoted in NYTimes article
"This goes way beyond just weakening the mercury rule," said Alan Krupnick, an economist at Resources for the Future, a nonpartisan Washington research organization. "This is part of a change that would give the Trump administration a way to more easily justify loosening many other pollution regulations, such as rules on smog, and rules on climate-change pollution."
For example, Mr. Krupnick and other experts said, tweaking the formulas could also make it easier for the E.P.A. to justify its separate proposal last month to replace the Clean Power Plan, an Obama-era rule that was designed to cut global-warming emissions from power plants.
Copy and paste below link for entire article:
https://www.nytimes.com/2018/09/07/climate/epa-mercury-life-cost-benefit.html
12. Crabby Old Man Item:
I don't know about your experiences, but it seems to me that rarely a day goes by when I don't see a typo, grammatically incorrect sentence, or totally unintelligible statement. Have all the proof readers retired? I think I'm becoming Grandpa Simpson. Or maybe I am already. For example:
The software on my i-Phione was recently updated--not that I wanted it to be, because I've noticed that these "improved" updates frequently change or eliminate some function that I've learned to use and depend on. And then... POOF... gone into space.... wiped out for eternity. So I got this message after my software was last updated. Maybe someone can translate this for me:
OPTIMIZED BATTERY CHARGING
To reduce battery aging, iPhone learns from your daily charging routine so it can wait to finish charging past 80% until you need to use it.
?HUH? And this from one of the most highly valued (according to Wall Street) companies on earth.
13. Lastly, wishing all a HEALTHY and HAPPY 2020.
From Sir John Templeton, philantropist, financier
"Minds are like parachutes--they only function when open".
****POSTED JANUARY 3, 2020****