Central High School. 224th Class
Class Giving Update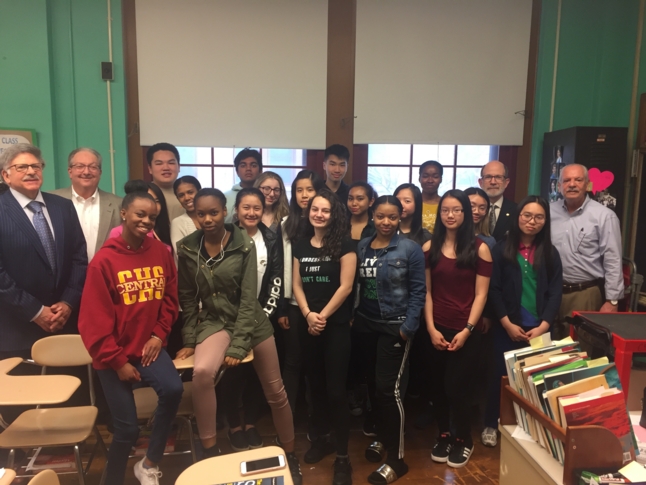 Above is a photo of students who recently completed an SAT prep course primarily sponsored by Burt Cohen. Please note 224 members in attendabce...from left, Ron Rosen, Alan Sheinberg, Mark Lipshutz, and Burt Cohen. Below is an expression of gratitude from one of the students to Ms. Bilsky (one of the SAT instructors).
Hello Ms. Bilsky,
I just wanted to email you to say thank you so much for all your help in the SAT Prep Class at Central. I just received my SAT score, and it wouldn't have raised by almost 200 points if it wasn't for you! The class taught me tips and tricks I probably wouldn't have learned elsewhere, and I greatly appreciate the time you took out of your days to assist us.
Again, thank you!
Tiara Bounyarith
__________________
For those looking for worthy charities for anticipated MRD money, consider a donation to expand educational opportunites for current CHS students. There currently is a waiting list for this course. The fee is $350 for each student. Contact Burt Cohen for additional information.
**************************************
Here's a letter from the Director of Development at CHS thanking us for a contibution from the 224Ward Fund. (Note: AMAL is an exchange program with students in Israel.)
Dear 224th Class,
Central High School has much to be proud of, not the least of which is it's generous and dedicated alumni.
When the AMAL program was introduced to President McKenna by Allan Marmon last year, it sounded like a nice idea. Leave it up to the students to take that "nice idea" to the next level. Through the year the students from Central and AMAL in Israel worked towards a common goal. With the support, instruction and guidance of their respective teachers, they remained steadfast and focused on their goal of solving the world-wide issue of providing clean drinking water for all.
When it came time to coordinate the budget for the funds required to make this dream become a reality - we quickly realized that the focus had been solely on the academic (science), and personal (socialization) aspects between students, and not on acquiring the necessary funds to bring this exchange trip to fruition. Enter the 224. With your understanding of how transformational this once in a lifetime opportunity would be for the entire group, the 224th class fund made the difference. Your allocation of funds towards the airfare for the CHS group to travel to Israel, was a game changer. As a direct result of your choice to support the CHS / AMAL partnership project and offset the airfare costs, the CHS students can make good on their promise to visit their Israeli partners later this month.
On behalf of the AACHS, the student partners and faculty, please allow us to extend our heartfelt thank you for making all the difference in the world.
The future is bright, due in part to the light that the 224th class provided.
Lynn Norton Robins
Director of Development
Central High School of Philadelphia
***************
*****Posted May 24, 2018*****