Central High School. 224th Class
New England Reunion.and More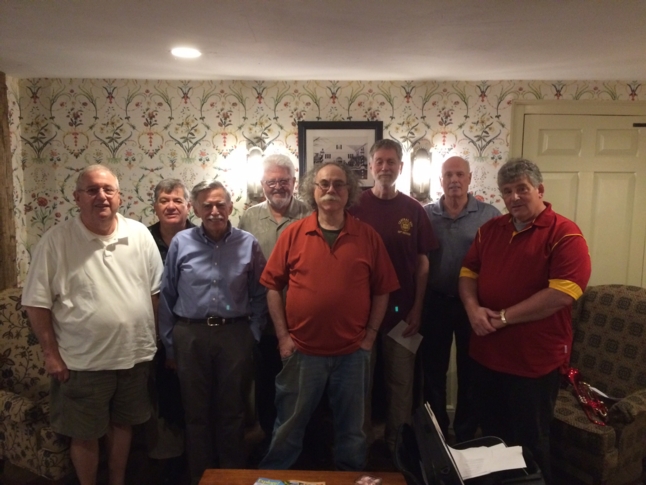 FLASH!! From NEW ENGLAND! Thursday, August 22, 2018!
Another wonderful annual gathering for our 224 New England group, in Sturbridge Masssachusetts.
Left to right:
David Rogovitz, Howard Russock, Rob Silverman, Nick Milas, Ellis Cohen, David Perloff, Jim Speck, Bennett Wartman.
Bennett gets the prize for greatest distance traveled. He even brought his trumpet.
Contributed by David Perloff
**********************
Margate Reunion
You may recall this photo from the recent Downashore get together in Margate. Unfortuately, classmates were not named. So here goes. Your challenge will be to identify who is who. There were 3 Marks/Marcs (Weisberg, Lipshutz, and Cohen), 3 Davids ( Kaufmann, Levy, and Laxx), and 2 Bobs (Cohen and Cherwony), 2 Freds (Furman and Bronenberg), 2 Mikes (Kraynyak and Rieder), 2 Harveys (Tessler and Layton), 2 Joels (Samitz and Rosenberg), 2 Sauls (Langsam and Reibstein), 2 Larrys (Roberts and Glass), 2 Dans (Delcollo and Goldberg),1 Bennett (Wartman), 1 Frank (Cipparone), 1 Chalie (Ricci), 1 Farrell (Bloch), 1 Ken (Blank), 1 Morris (Gocial), 1 Lew (Albert), 1 Stan (Fogel), 1 Steve (Gross), 1 Barry (Drossner), 1 Robbie (Crowell), and 1 Lee (Yasgur).
Questions:
1. Who is in both the NE and Margate photo?
2. Of the guys mentioned in the Margate gathering, who is not in the photo, or cannot be seen as he is obscured in the back row?
****POSTED AUGUST 27, 2018****